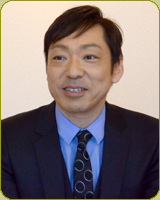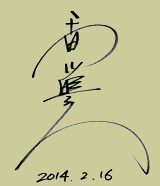 Born in 1965 in Tokyo. Graduated from Tokyo University, department of literature.

In 1989 he made his debut as an actor in the NHK Taiga drama "Kasugano Tsubone" and went on to be in many TV dramas and movies such as "Unfair" and "Kaiji". In 2013, he played the antagonist, Owada, in the TBS hit drama "Hanzawa Naoki" and his outstanding performance went on to create a big following.

In 2011, he returned to his Kabuki name, Chusha Ichikawa the Ninth. He continues his career as a TV actor and at the same time as a Kabuki actor.



Vol.9 - Teruyuki Kagawa is a well known Japanese actor and has been in many TV dramas and movies. Recently, he has become popular as a Kabuki actor, known as Chusha Ichikawa the Ninth.



My first memories of Roppongi are from the late '80s to the early '90s. I had just graduated from university and it was the era when "Disco" was the hottest place to go. A friend who liked partying would take me out and we would go by the famous "Roppongi Square Building". I remember going from Shibuya by car, turning right at the first light, "the Roppongi intersection" and there we were, in the densest, hot spot in Roppongi. Until high school, all I did was study, so the only thing I knew about Roppongi was the "ALMOND Coffee Shop". Yes, I was quite a late bloomer.

I never really danced at the discos though. I just watched people dance and enjoyed gazing at the bright lights.

I don't know why, but I just had to be there. Roppongi was the place to be. I used to think that Shibuya was for kids. "You were not really an adult until you had hung out in Roppongi". I wonder how university students feel about that now.  

I would wander around Roppongi all night. It had a dreamy, mysterious sparkle about it. Just walking around, you felt like you were going somewhere or you were going to meet someone. I wasn't a big drinker or a party person, but Roppongi was a "Holy Place" for partying, even for a person like me.




Since I began working as a actor, "Roppongi Hills" has become a familiar location for me. It is where the "Tokyo International Film Festival" is held. I have walked the Green Carpet and I have had interviews with foreign directors and actors visiting Japan for this event.

Also, I am often invited to the "TOHO Cinemas" movie theater to make a speech for the opening night of new movies. I am also routinely on stand-by to speak at the "Curtain call" cafe in the movie theater. I love going to this movie theater because it is very convenient, you can reserve tickets beforehand, and I find the screens are easy to watch. Sometimes, I would pick a day where I could stay at the movie theater and watch movies all day long.

When I am being interviewed, hotel rooms in Yurakucho, Ginza and Toranomon are often used, but out of all the hotels, my favorite is the "Grand Hyatt Tokyo" in Roppongi Hills. The beige colors and the natural wood interior relax me. If I were to stay in Tokyo privately, I would probably choose this hotel in Roppongi as well. If I were to recommend a bar, I would say,"The Bar Cask" located along Roppongi Road is good as it has a great selection of whiskies.

Oh yes, and speaking of stories about Roppongi, there is an episode I would like to share about my father (Ennosuke ICHIKAWA the second) that I heard as an adult. He had just gotten his driver's license and had gone for a drive in his car. He crashed into an electric poll right in the middle of the Roppongi intersection and caused a complete blackout throughout Roppongi. This story is legendary in the Kabuki world.




Recently, starting with Roppongi Hills, Roppongi seems to be growing vertically. I wish they would have low buildings and build out horizontally. For example, recently I like going to Daikanyama to their "Tsutaya Bookstore" because you can read freely and its motive is not only to make a profit but also to help redirect people's way of life. I like the way books helps us go back to the way things were when we used to read and relax. I also like the fact that the bookstore is a two storey building.

I think Roppongi is great at keeping its historical bars and restaurants, but it should also try creating a "daytime image" for the area. For example, how about an Art gallery or a "Tsutaya Bookstore" in the densest hot spot of Roppongi. I believe creating new spaces that transmit the culture is the key to making Roppongi even a better and brighter place to visit.