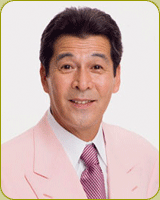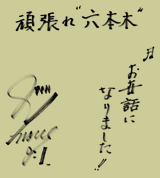 Born in 1947. Joined the Yaju-kai when he was 13 years old, and became a vocalist for "The Spiders" when he was 16.

In 1972, the group split up and he went solo producing a number of hit songs such as "Yesterday, Today, Tomorrow", "Osewaninarimashita" and several more. He also became MC for the legendary music show "Yoru no Hit Studio". It was the start of a new era.

He is currently involved in TV dramas, movies, stage plays, the music industry and a wide range of other activities. In 2009, he was in the Japanese movie "60 year old love letter" which was a big hit.


Vol. 8 – Our 8th interview is with Jun Inoue, who had a brilliant debut as one of the members of the "Spiders". He has had a wide range of success on TV as a singer, actor and host of many shows in Japan.



I first became acquainted with Roppongi when I was 13 years old. In 1960, there was a social group known as "Roppongi Yaju-kai", the wild animal committee, which sounds a bit scary, but in fact, it was for people who wanted to get ahead in the movie, music and TV industry, people who wanted to become a journalist; young people with big dreams.

The reason why I happened to join the Yaju-kai, was that my parents loved movies and being the youngest of three children, I was often taken to the cinema. I watched Disney, westerns, Chaplin, . . .those kinds of movies, and when I got home, I would act out scenes from the movies for my older brother and sister using lots of gestures to explain it, that was the kind of child I was. So when I was 13, a junior high school student, my parents wanted to motivate me with something outside of school and they introduced me to the Yaju-kai. This group of young kids was giving a musical performance, it was my first time to see a live performance and I got so excited watching it. After that, I would go there after school, hang out and sing along with the music.

It was the older "Yaju-kai" kids who took me out to Roppongi. I had never heard of it and in those days, street cars were still running, little shop with kawara tiled rooftops lined the streets side by side all in a row, but here and there you could find some nice restaurants. There was this restaurant, "Delica Leo's" right where "Don Quihote" stands today. It had a foreign ambiance and it felt like a scene out of a movie. The customers were also so cool, like what we call "super models" today, and also Mariko Kaga went there. I thought the place was cool but it was the customers that really impressed me. This is my first recollection of Roppongi. I had culture shock right from day one. The boy who first took me to that restaurant was Toru Minegishi who passed away last year. He was like my older brother and a member of the Yaju-kai. He treated me like a little brother and took really good care of me.

After that, if someone from the Yaju-kai was going to Roppongi, I would always tag along. I was there almost every day. In the Yaju-kai, there were kids who wanted to be in the fashion industry and in the group there was a boy who was a tailor's son. I was only a junior high school kid but I really wanted to look like an adult, and that meant a suit, right? The tailor shop made me a custom-made suit with the promise that I would pay for it when I became successful. I wore that suit and went to Roppongi trying to look older than I was. And I came home every morning around 4:00 am. I went to school diligently but I was always so sleepy. But I had so much fun.




I started hanging out in Roppongi when I was 13 and I joined the group "The Spiders" when I was 16. I spent all my free time in Roppongi. During my most vulnerable years, I absorbed all kinds of knowledge, I learned from watching the grownups around me and I grew up quickly. I liked school but I felt lucky that I was able to take a peek into a mature atmosphere, something different from school life. I was definitely raised by this town when I was a teenager.

"Chianti" opened around this time, too. The race car driver, Yukio Fukuzawa, would come to the restaurant. He was super cool, and he would often say to me "Jun, let's go and eat" and he taught me all kinds of things. Actually, the group "The Spiders" was playing jazz music at that time, but it was Yukio Fukuzawa who told us about "The Beatles" and "The Stones". He travelled around the world to car races and gave us the latest news and information so "The Spiders" new style was complete. I met a lot of people in Roppongi but I think my biggest encounter was with Yukio Fukuzawa who showed me the way.

On the first floor of the "Chianti" building was a tailor shop "Baby doll" where many music groups and bands ordered their costumes and uniforms. Their customers were all amazing people, Yujiro san, Katsu san, Mifune san . . . They were like shining stars, I often got to meet them, it was like I was in a dream. Anyway, I spent a lot of time in that restaurant. "Chianti" in those days, was the symbol of Roppongi.




When I grew up and started working, I lived closeby so I would always stop by Roppongi before going home. Italian was "Chianti", sushi was "Sushi Cho", chicken was "Tori Cho". If I felt like listening to music, I went to "ROGER", if I felt like singing, I went to "REVERIE", when I wore jeans, I went casual to "Hamburger Inn". Also, if I wanted to eat a square pizza, I went to "Sicilia". I almost always went to the same places. Not even a single day went by without me meeting someone I knew. And whenever I went there, I always learned something new.

Unlike the Yamanote residential area, Roppongi had a wealthy, international feel to it where people with class would get together. It was a world to itself, a made up town. It is nice that the town is becoming new, but I hope that some of the culture we helped create stays. I heard that Roppongi Hills and Midtown are very crowded so I actually haven't been there yet.

I hope that even after modernization, the town continues to warmly welcome anyone who comes to visit. I was born and raised in Shibuya and I still live in Shoto so I have seen Shibuya go through growth as well as great efforts to making a pleasant community. I see many similarities with Roppongi's community. It would be nice if Roppongi's shopping arcade becomes a trouble free zone with a safe and warm atmosphere. The town of Roppongi that raised me is as important to me as Shibuya where I was born. That is why I always wish the best for Roppongi.

| | |
| --- | --- |
| | |