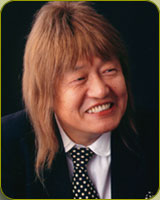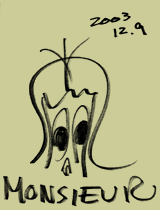 Born in Tokyo on January 12, 1939. Real name: Hiroshi Kamayatsu.

Blood type B. Pioneer of the Japanese jazz world. Oldest son of jazz musician Tib Kamayatsu. Formed a Country and Western student band while studying at Aoyama Gakuin University and performed often at the U.S. Base camp. In 1958, he joined the group "Kazuya Kosaka & the Wagon Masters" and began his professional life as a musician. In 1964, he formed a new group "The Spiders" with Shochi Tanabe, Masaaki Sakai, Jun Inoue and a few others, as rockabilly artists. Some of their big hits were "Furi Furi", "No No Boy", "Ban Ban Ban", Yuhi ga Naiteiru" (Sad Sunset), and "Summer Girl".

In 1970, after the group split up, he started again as a solo artist and he released "Donika Naru sa", "Nonbiri Iku sa" and "Four leaf clover" and sang a duet with Takuro Yoshida, "Cynthia" which became a big hit, and they appeared on TV on the "2nd All Japan Folk Jamboree". In 1975, his single, "Waga Yoki Tomo Yo" became a major hit and since then, he has been releasing albums, appearing on TV, and actively continues with his music.




Monsieur Kamayatsu passed away on March 2 2017. May his soul rest in peace.

Vol. 3 – Our third interview is with the legendary musician, known for his songs such as "furifuri", "Yuhi ga naiteiru", "anotoki kimiwa wakakatta". You probably know him from the group "The Spiders", Monsieur Kamayatsu.



I began hanging out in Roppongi in the late 1950s, maybe around 1957. We were the generation just before the social group "Yajukai", the Wild Animal Committee, made their appearance. I hung out with actors from Nikkatsu Film Studio like Yu-chan (Yujiro Ishihara) and Keiichiro Akagi who I saw almost every day. We were always talking about doing cool things.

In 1960, "Chianti", a well known Italian restaurant owned by Hiroshi Kawazoe and his wife, Kajiko opened, and because I was friends with their son, I went to the restaurant from the day it opened. In those days, Yukio Mishima and many prominent people were there, it was like a salon in Paris. I was still in my early 20s, a child really, so when the adults were talking around me, I sat there quietly and listened. Sometimes they would say "hey kid, come on over" and they would treat me. It was a great place. On the first floor was a boutique called "Baby Doll" where we had our uniforms made for our band "The Spiders". "The Tigers" and "The Tempters" had their uniforms made there, too. Chianti became a place where a lot of people got together, and it became our hangout.

Also, when I went to the States to study in 1962, the Kawazoes introduced me to their friends there. And when I went to Europe, I don't know why, but they told me to go and meet "Pierre Cardin". When I did go and see him, he invited me to lunch, but because I couldn't speak French and he couldn't speak English, it was a very silent meal (lol). Chanel, Cartier, Hermes... I learned about all the top brands at Chianti. So when our band "The Spiders" went to Europe for the first time, we went crazy shopping (lol). In any case, there was no internet like now, but the people who hung out in Chianti had all the latest information and news. And like the Kawazoes, there were many kind people right there in Roppongi who generously shared their knowledge and connections with the younger generation.

Other restaurants I remember were "Sicilia" and "Nicola's" and kiddy corner to the Goto flower shop, there was also "Franks", the first pizza delivery shop to open in Japan. There were lots of places to eat, so from the late 1950s to the 1960s, I don't remember going anywhere outside of Roppongi. In the 1970s, because the Folk music gang's hang out was Harajuku, I would go there occasionally but because I was into "Disco", as usual, I went back to Roppongi. The "Castel" Disco in the Square Building, was one of them. In those days, there were a lot of musicians from overseas who came to Roppongi like Led Zeppelin, Queen, and the Doobie Brothers. I remember going with them to "Seryna" (Kobe beef and Shabushabu restaurant) for dinner and going to the discos with them and getting really drunk. I think I was drunk almost every night.




For the last 30 years from the 1970s, I have been renting a place in Roppongi aside from my own house. But now it's just a place to keep my musical instruments . . . In the old days, after work, I was always going to the disco or eating out, I was in Roppongi every night, so I asked myself, why not just rent a place there. I guess a part of me just wanted to be close to the action.

Now that I'm grown up, I feel like there aren't many young people roaming around town and having fun the way we used to. So that's why in our generation there were more opportunities to encounter different people. I feel the town is also changing, in a good way but also in a bad way. In particular, there was a change from old to new with the opening of Roppongi Hills I think this town is going to continue to experience significant change.

Anyhow, Roppongi is so busy and noisy these days, don't you think? It would be ideal if Roppongi could become a place for grownups to enjoy a quiet dinner out like it used to be in the old days. This is a bit off the subject, but one time I was walking around and I asked these foreigners who were passing out flyers at the Roppongi intersection "Where are you from?" to which every one of them replied, "New York". But I was with my friend from NY and he said "nope . . . wrong accent" (lol).

Of course, if the town is too "clean", it's boring, you need some danger and excitement, too. A mixture of good and evil is what makes a town, right? From the beginning, Roppongi had a different uniqueness and appeal that the other busy areas like Shinjuku and Ikebukuro didn't have. I hope the hustle and bustle from the opening of Roppongi Hills settles down a bit and the town transforms in the right direction.

| | |
| --- | --- |
| | |