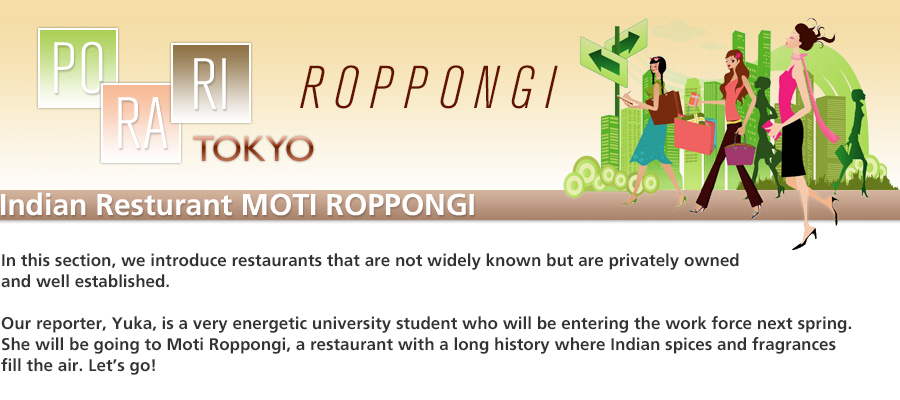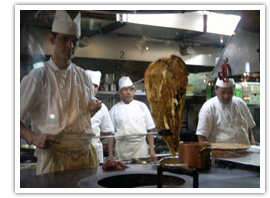 On September 4th, I made my way to Moti Roppongi!!
I wanted to eat an authentic Indian curry. . . ~♪

The elevator went up to the 3rd floor. When the doors opened, I stepped out of the elevator . The aroma of Indian spices filled the air. There were pictures and ornaments that decorated the restaurant, the interior design as well as the people who worked there, and the main dishes etc. completed the Indian ambiance.

I was looking forward to eating a delicious Indian meal and I wasn't disappointed. In the restaurant there were, of course, Japanese people, but there were also people from different countries and when I asked them about Moti, they all said that they loved it.

This time, I sat at a table near the kitchen way in the back. I could see them cooking from where I was sitting, and while I was waiting for my food, I could see how they made the naan. They actually let me into the kitchen to watch them make it and I was so surprised that it took only a few seconds to make each one.



The Indian beer "Kingfisher" arrived when I was on my way there. It was the first Indian beer I ever had. I was very excited about what it would taste like. "Kanpai" . . . I had my first sip. "So ~ good!! So easy to drink! I usually don't drink beer that much but "Kingfisher" was so good and I started imagining how great it would be if they had it at the regular "izakaya" restaurants. If they did, I would order it for sure. To like the beer, you have to, of course, recommend it to someone who doesn't drink that much.

After that, the dishes came, one after the other. My purpose was to enjoy eating Indian food so I ordered all kinds of dishes. First, they served me the "Mixed barbecue set" which was a mixed tandoori barbequed and served with mint sauce. The sauce was a little spicy but I think the food was delicious with or without the sauce.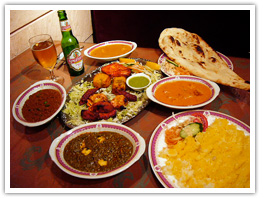 The first of four curries I ordered was "Palak Paneer", a spinach and white cheese curry with lots of spinach. It was so delicious!! Until this day, I had never eaten a curry with so much spinach in it. The white cheese was diced and when I ate the curry with this white cheese, it had a special taste.

"Prawn Curry" is a shrimp curry with spicy seasoned mushroom sauce. It was a little spicy but easy to eat so even if you are not good with spicy food, it's a good dish to try. "Moti Butter Chicken" is barbequed boneless chicken with tomato and butter sauce curry. This curry is very creamy . . . I was surprised that a curry could have such a creamy flavor. It was real tasty and is one of my favorites.

The "Keema Mutter Curry" with ground meat and green peas has lots of ground meat and it was a very hot curry. Of the four curries I tried, this one was the hottest (spiciest).

Of the four curries I tried, I think the curry I liked the most was "Moti Butter Chicken" . But I also liked "Palak Paneer". I couldn't decide between the two, but that creamy flavor was so delicious. Next time I go to MOTI, I probably won't be able to decide between the "Moti Butter Chicken" and the "Palak Paneer". Moti actually has 30 different kinds of curries on their menu from mild curries to "very hot" curries, like authentic Indian curries. So next time, I will go to Moti with some friends so that we can order all kinds of curries and share them.

Also, "naan" that goes well with curry is a must. It's so good. Theirs was around 50 cm in diameter. It was so big and delicious but very reasonably priced . . . So exciting. Butter rice had a buttery color and was very tasty. But for me, you definitely need "Naan" for Moti's curry. I think the Nan brought out the best of the curry.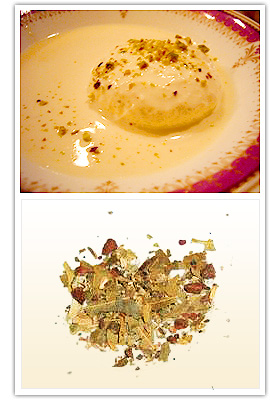 After trying all kinds of Indian dishes and being really full, I ordered "Ras Malai" for dessert. It is made from cottage cheese and milk and has a milky flavor.

It was a dessert that I have never eaten before and it was nice to have something sweet after eating all that spicy food. But the dessert had a strong milk taste and was quite sweet so you may or may not like it.

At the end, I had "Masala Tea", an Indian Tea, to relax. Masala Tea is prepared with cinnamon and cardamon. This tea was not sweet so you may need to add a bit of sugar in your tea. I couldn't drink it without the sugar.

By the way, when I was listening to them talk about the Masala Tea, I was interested in the cardamon, (the round, thin stick in the picture), so I had a little taste of it, and it was amazing! But be sure not to eat it like that!!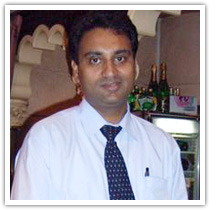 At Moti, if you ask the staff about how spicy a curry is, or what kind of dish it is, they will explain it kindly and in detail.

They also talked about Indian culture and all kinds of things and I was happy with the service. (On the day I went, a waiter named Jagdev Singh served me)

Also, between 17:00 and 21:30 if your order is more than ¥2000, they have a delivery service for the Akasaka, Hiroo, Roppongi, Toranomon, Ebisu, Aoyama and Azabu areas. Be sure to try it out. The food is so delicious and I am definitely going again ♪




Kingfisher ¥685-
,
Masala Tea ¥475
-




Palak Paneer ¥1,365- , Prawn Curry ¥1,470- , Moti Butter Chicken ¥1,575- , Keema Mutter Curry ¥1,420-


Mix Barbecue Set (2person- ¥2,310-) , Naan ¥315- , Butter Rice ¥315
-


Indian Resturant MOTI ROPPONGI

Address :

106-0032 Roppongi Hama Building 3F, 6-2-35 Roppongi, Minato-ku, Tokyo

Access :

A1 Exit, Roppongi Station, Hibiya-line (Subway)