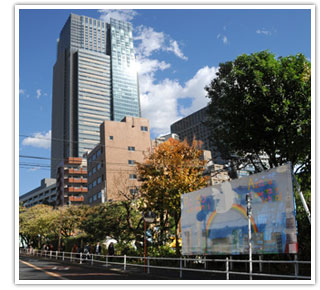 "KIDS GUERNICA" is modeled after Picasso's "Guernica" painted in 1937 to protest the war on the citizens of Spain and is on the same size canvas (3.5m × 7.8m) as the original. Children from the four corners of the world paint on the theme of "PEACE". The International Children's Art Project has completed, to date, over 100 painting from all over the world. Children and adults have crossed borders to take part in this Roppongi arts event for the theme of "PEACE", that is also referred to as "KIDS GUERNICA". This project of integrated learning has attracted attention at home and abroad.

Workshops are being held from elementary schools to universities in Japan on the theme of "Peace" as part of the educational program. These workshops are also being held at local events and art events, one part of it being the "Kids Guernica Project".

The children who are taking part in this "Kids Guernica Project" workshop assemble and talk about the meaning of peace while working together to paint their "Guernica" on the same size canvas (3.5 m × 7.8 m) as the original peace mural (1937).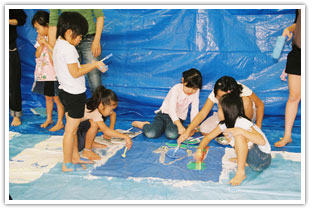 At this workshop, each child thinks deeply, with a calm mind, about the meaning of peace while they discuss and work together to make one mural, a valuable experience for everyone involved.

Recently, many countries are suffering from armed conflicts and disputes, and the world is having serious discussions on what we can do to bring peace to these places. Global enterprises such as "Peace and Business" "Peace building Initiative through Enterprises" are already working towards what can be done and Japan has started, too.



The "Kids Guernica Workshop" is for "parents and children to experience real art and to learn from Picasso how to express themselves. Picasso protested the war with his paintings and we believe everyone can learn something fromhim. They can express themselves together in this big painting; something they've seen, how they've felt, what they've heard, how they've thought!" It's an amazing event for elementary school students .



Homepage : http://www.kids-guernica.org/ja-index.html