A Roppongi souvenir, very popular with the tourists, "TOTEMAP", is "Roppongift" first stage.
Roppongi shopping arcade's new logo can be found on the Roppongi totemap and is on sale now.
More new Roppongi souvenirs "Roppongifts" are making their debut and sold only in the shopping arcade.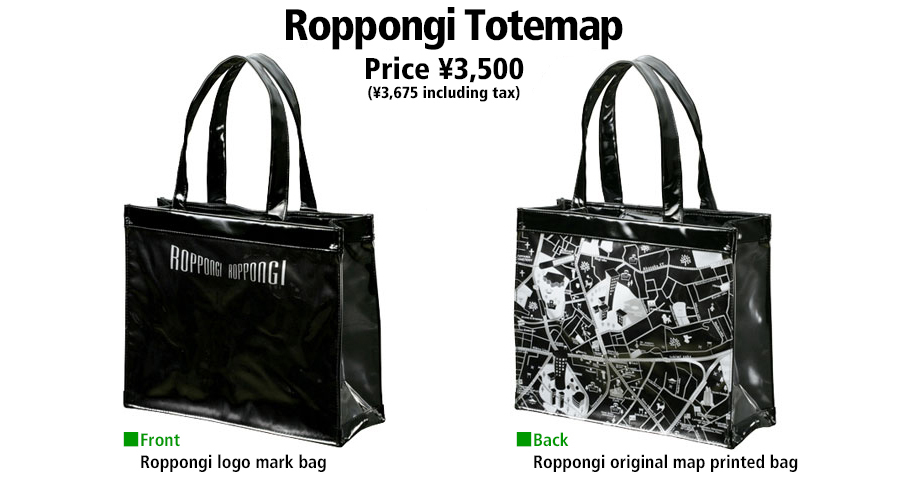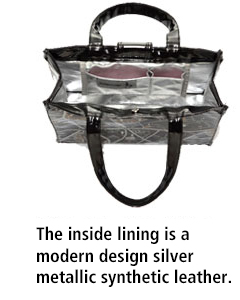 Fits A4 size documents. The handle is made of soft leather and it's a little long so that you can hang it over your shoulder. The map is a silver, grayish monotone print, very cool and stylish. It is a simple design that can also be used by men.
This originally designed map has been shrunk down in size. Buildings, towers and the train stations have been carefully arranged . It's a practical. reasonably priced souvenir for people who come to Roppongi and want to bring those memories home.
You can reminisce about your visit to Roppongi when you look at the map on the bag, that is why this totemap is so fun.
"Roppongift" are limited items that can only be found in the Roppongi shopping arcade. It makes us happy to know that when you come to buy the totemap, you will be visiting our Roppongi shopping arcade.


Size :
W330×H270×D120mm handle 450mm
Exterior Material :
satin plus PVC vinyl (print on the back)
Lining :
silver synthetic leather (thin)
Bottom, side, edging, handles :
soft black synthetic leather?
Print :
4th edition
Pockets :
for mobile phone + small articles : black synthetic leather ・ magnet